Original Georg Soros Betrugs Mafia: Original US Betrugs Mafia, mit Senator Eliot Engel, Tom Ridge, Frank Wisner. Die KAS Partner haben es sich in Albanien, wenn der US Botschafter John Withers Lulzim Basha als "Lügner und Betrüger" bezeichnete, heute der ehemalige Geschäftspartner der den Schwager von Lulzim Basha: Erion Isufi einstellte als Manager, Lulzim Basha auf dem twitter account, als "dümmsten Politiker des Balkans bezeichnet (He is now offically the dumbest politican in the Balkan, not an easy task by any measure).   siehe Kopie, bei der KAS, weil es um Betrugs Verbindungen geht, hat das natürlich einen anderen Stellenwert.

aus 2010: Der Lügner Lulzim Basha, bestritt das er für die UNMIK Anfang 2002 die Erstellung der geheimen Berichten rund um Organ Handel der UCK ermöglichte, rund um Burrel, wo er persönlich war, gilt seitdem mit Ausnahme der korrupten KAS Gestalten der CDU, als Lügner und Betrüger, was auch der US Botschafter John Withers deutlich sagte.
Aber die Medien haben einen sehr kompromittierenden und harte Beweise früheren Chef des Amtes der fehlenden UNMIK im Kosovo, Jose Pablo Baraybar zurückgegeben, der erklärt, dass Basha hat nicht nur als seinen Dolmetscher arbeitet, haben aber auch sammeln Beweise für den angeblichen KLA Verbrechen gegen die Serben, auch als Ingenieur verkleidet. Inzwischen Journalist, auch Veteran der Kosovo-Befreiungsarmee, Milaim Zeka, sagte, dass nach Shqiptarja.com Führer der Kosovo Politik und Kosovo Nachrichtendienst, Lulzim Basha der Architekt der Ausarbeitung des Dossiers in Den Haag gegen die Kosovo-Befreiungsarmee ist.
Der Pyschopat Lulzim Basha, heute als Albanischer Innenminister unterwegs und eng mit der Top Balkan Mafia verbunden, u.a mit Damir Fazllic, versucht doch mit allen Mitteln, wie andere hoch kriminelle Partner der Politik, Ermittlungen in Organ Geschäften rund um die UCK Veerbrecher zu verhindern, indem er bestreitet je für den ITCY tätig gewesen sein, bei Ermittlungen in Albanien. Zuvor, wurde Lulzim Basha, als Drogen Aussenminister prominent und zuvor auch als Transport Minister, als Anklage gegen ihn wegen Korruption erhoben wurde.
Lulzim Basha was born in Tirana on 12 June 1974. His family hails from Drenica in Kosovo,[1] from where they were expelled by the Yugoslav Partisans. After attending the Sami Frashëri High School, he studied law at Utrecht University in the Netherlands and worked for the International Criminal Tribunal for the former Yugoslavia as member of the investigation team of war crimes of Serbian forces in Kosovo (1998–1999).[2]
Der Journalist Altin Raxhimi, veröffentlichte über diese Verbrechen in Albanien und auch bei Balkaninsight, eben seine eigenen Ermittlungen, über die Verbrechen u.a. in Kukes. Darauf wurde Herr Raxhimi in Tirana angefeindet, und musste Albanien verlassen, vor 7 Jahren. Heute gibt er zum Thema, dieser Verbrecher rund um Albanische Politiker ebenso, ein Interview.
Die Kosovaren Verbrecher Banden fluteten in 1997 Albanien, wo man auch Militär Offiziere erschoss, wie in Skhoder, um an Waffen zu kommen. Morde, über Morde, vor allem an UCK Konkurrenten, waren die Tages Ordnung, was heute vertuscht werden soll, weil man den Drogen- Waffen- Menschen Schmuggel aufteilen wollte, durch sogenannte Politiker. Eine Schlüssel Rolle spielte die hoch kriminelle US Botschafterin Mariza Lino damals und wie der CIA Chef Georg Tenet Griechischer Abstammung. Wir legen dar, das die Albaner Politiker, nur noch Panik artige Lügen produzieren, um von deren Null Funktions Theater Staat abzulenken. Es wird gezielt nicht ermittelt, und bei dem unten genannten Mord an Ali Uka, verschwand die Ermittlungs Akte, über Hashim Thaci.
Damir Fazllic ist der Ex-Serbische Bosnische Geheimdienst Chef des USB, hat Britischen Pass und war Finanz Buchhalter u.a. bei Karadic.
http://www.northepirus.com/en/node/542
Tirana: Yassin Kadi and his twin tower in front of the premier minister
KAS Programm: mit dem vollkommen korrupten Verbrecher Lulzim Basha, als Kern Programm
" Ein Kernelement der Zusammenarbeit der Konrad-Adenauer-Stiftung in Albanien ist die Kooperation mit der Demokratischen Partei, unter Führung des Partaivorsitzenden, Lulzim Basha."
seine Energie Geschäfte
http://damirfazlic.blogspot.com/2009/03/damir-fazlic-energy-and-albania.html
Damir Fazlic, baute ein Betrugs Investment Projekt auf mit dem Schwager von Lulzim Basha: "Erion Isufi", wo das Albanische Finanzamt 1,5 Millionen € VAT Steuer Rück Erstattung zurück fordert, weil alle Rechnungen und angeblichen Investment Phantom Betrugs Nummern waren. In Albanien ging er in die Insolvenz, in anderen Balkan Staaten, hatten seine Geldwäsche Phantom Firmen für die Regierungschefs mehr Erfolg. Er tauchte als MI6 Agent, mit dem korrupten US Verbrecher Tom Ridge auf, der 500.000 $ Lobby Geld als angeblicher Berater stahl in 2005.
Argita Berisha, war seine Anwältin, auch bei Firmen Registrierungen, Grundstücks Diebstahl in Spitale, wo alle Dokumente später für ungültig erklärt wurden.
In 2015, gingen alle seine Firmen in die Insolvenz, mit enormen Steuerschulden.
Politike
09 Mars 2018 – 21:18 | përditesuar në 23:11
Miku i Sali Berishës, famëkeqi Damir Fazllic, shtetasi serbo-boshnjak i cili është hetuar disa herë në Shqipëri si një sekser në afera të ndryshme ndërmjet familjes së Sali Berishës dhe disa kompanive të huaja, ka sulmuar sot publikisht kryetarin e PD-së Lulzim Basha.
Fazllic u hetua për pastrim parash në Shqipëri, por
Damir Fazlic [left] with Lulzim Basha, former Albanian transport and communications minister, today Mayor of Tirana and Democratic Party leader [right].
Alternative 2, welche genauso ein Unfug ist, wie die beiden anderen Alternativen. Mehrere Seiten im Gutachten, nimmt die dortige Pump Station, sogar mit Foto ein. Je nach Funktion und Notwendigkeit, sind dort 2-4 grosse Pumpen im Betrieb, um die dortige Gegend von Kenete, Hamalaj, Spitale zu entwässern, weil über 1.000 Hektar unter dem Wasser Spiegel liegen. 1.000 Tonnen, Erde, Abwässer, Feststoffe, Lehm werden dort ins Meer gepumpt. Bei den Plänen der Holänder, wurde diese jährliche Verlandung nicht berücksichtigt. In der Realität, haben Praktiker dann die Süd Mole gebaut, aber die Pump Station liegt nun ausserhalb des Hafens Becken, wie es notwendig ist.
Für 1,7 Millionen verkauft Damir Fazllic, Manager der Langzeit Gangster Erion Isufi, Schwager von Lulzim Basha, über einen Notar, ohne das Vermögens Werte wie Grundstücke angegeben sind.
Das diese Firma gefälschte Grundstücks Urkunden hat, wurde schon von der General Staatsanwaltschaft festgestellt, weil alle Bankkonten in 2008 beschlagnahmt waren. Geldwäsche wurden von der General Staatsanwaltschaft festgestellt und die Salih Berisha Mafia Polizei mit Bujar Nishani, verweigerte Damir Fazllic, zu einer Vorladung der Generalstaatsanwaltschaft zubringen.

Langzeit Thema ist ebenso dort: ein Thermo Kraftwerk zubauen, auch für Müll Entsorgung, was bei den Sommer Winden, die gesamte Gegend inklusive Durres, Shiak ja sogar Tirana gefährden würde, wegen Dioxin Dämpfen.
Einer seiner fiktiven Grundstücks Verkäufe, wo Gewinne produziert wurden
In England, Damir Fazlic attended the Harrow school for boys and the London School for Economics and Political Science. While attending the same school that George Soros formerly attended, he also happened to finish in the same amount of time that Soros did; 2 years. Ultimately, Fazlic finished his studies in England and began working at the age of 19. He fortunately received a job at Markit, the largest UK investment bank at the time.
http://damirfazlic.blogspot.com/2009/03/damir-fazlic-bio.html
Die üblichen Betrugs Firmen wie in Deutschland, beglaubigten gefälschte Bilanzen für Kredit Betrug, gefälschte Grundstücks Dokumente und fiktive Einnahmen
Typisch das wie so oft die Langzeit Betrugs Beglaubigungs Firma: KPMG
die Phantom Werte des Nichts, beglaubigten, die gefälschten Bilanzen, damit man Bank Betrug organsieren kann.
Tom Ridge und weitere Geschäfte in Albanien
Video einer Regierungs Sitzungs mit Salih Berisha,von Tom Ridge mit Damir Fazllic an seiner Seite. Tom Rich erhielt 500.000 $ für Beratung, sprich Erpressung von der Albanischen Regierung, was heute Tony Blair weiter macht. Tom Rich promtete auch die MEK Terroristen an vordester Stelle.


hoch interessantes Video (leider wurden alle Videos im Internet gelöscht, was Alles sagt), das einer der mächtigsten US Politiker Tom Ridge, direkt mit dem prominentesten Embargo Brecher und Karadic Financier Internationale Strategische Geschäfte macht und zugleich solche Leute offensichtlich eine Langzeit Beratungs Funktion für den CIA und US Politiker haben im Balkan und dann wie so oft: Die US Zigaretten Industrie. Fazllic und Tom Ridge beraten offiziell sogar den Albanischen Geheimdienst SHIS usw.
Albania investigates Bosnian businessman over financial activity
Voll die Korruption schon wie mit Warnke und der Scientology 1992-93. Und wieder gibt es nicht existente Berater Firmen
1. Beratervertrag mit nicht existenter Firma: Der frühere US-Sicherheitsminister Tom Ridge gibt die Gründung einer Beraterfirma bekannt, die bereits 2006 eine Ausschreibung in Albanien gewonnen hat. Die Meldung schürt die Korruptionsvorwürfe gegen die Regierung. Der Rechnungshof stellte bereits Tage zuvor fest, dass das Unternehmen aus einem Sonderfonds der Regierung mit 200.000 $ bezahlt wurde.
Oktober Nachricht von
Anscheinend sind da noch viel höhere Beträge an den Amerikaner gegangen! Nämlich 160.000 $! Vor allem ist nicht klar für was?
Geri Kokalari akuzon këshilltarin e Berishës Tom Ridge si përfaqësues kriminal i shqiperis
Printoje
Wednesday, 03 September 2008
ImageKëshilltari i Berishës u përfshi së fundi në një skandal financiar në SHBA. Ai nuk paraqiti të ardhurat e përfituara nga qeveria shqiptare. Sipas një kontrate që Sali Berisha ka firmosur me këshilltarin amerikan Tom Ridge, ky i fundit ka përfituar nga taksapaguesit shqiptarë rreth 500 mijë USD. Sipas kontratës të firmosur me kryeministrin Berisha, Tom Ridge është paguar nga qeveria shqiptare me 160 mijë USD në fillim të kontratës, 160 mijë USD në muajin prill të 2007, si dhe pjesën tjetër rreth 160 mijë USD i është paguar në gusht të vitit 2007. Nëpërmjet kësaj kontrate Tom Ridge merrte përsipër të këshillonte qeverinë Berisha për strategjinë qeverisëse, në organizimin e seminareve, si dhe të ndihmonte këtë qeveri me asistencë për hyrjen në NATO. Në fakt Tom Ridge mori 500 mijë USD dhe mori rrugët drejt SHBA,duke lënë mikun e tij Berisha të vetëm në vështirësitë e krijuar nga tragjedia e Gërdecit dhe apo dhe trafikun e armëve. Duhej fatkeqësia e Gërdecit, që të vërtetoheshin një pjesë e akuzave, që gazeta ?SOT? ka ngritur në vite, për abuzimet që qeveritarët kanë bërë me paratë dhe pronat e shqiptarëve. Ka qenë gazeta jonë, që ka (para)lajmëruar qysh në vitin 2003, se si bëhet kontrabanda e armëve dhe tregtia e skrapit në Shqipëri. Ky është një nga shumë raste, që kanë të bëjnë me tregtinë e armëve që është zhvilluar në ministrinë e Mbrojtjes edhe me mbështetjen e "miqëve" të Saliut, ……………
http://sot.com.al/index.php?option=com_content&task=view&id=77803&Itemid=1&lang=
Tom Ridge hat einen 480.000 $ teuren Lobbyisten Berater Vertrag von Salih Berisha Dieser Vertrag ist vollkommen illegal.
http://balkanforum.org/thread.php?threadid=3800
Ridge: Mbani sekret 480 mijë USD që më dha Berisha
» Dërguar më: 18/10/2008 – 07:15
Kontrata e nënshkruar mes kryeministrit Sali Berisha dhe këshilltarit amerikan Tom Ridge, është anti-ligjore. Të gjitha ligjet mbi të cilat mbështetej, VKM për të paguar afro 500 mijë dollarë kompaninë lobiste ?Ridge Global LLC?, në këmbim të konsulencës për sigurinë kombëtare, nuk lejonin qeverinë që të lidhte këtë kontratë. ?Gazeta Shqiptare? zbardh kontratën e deklaruar nga Ridg në Departamentin e Drejtësisë në SHBA. Shërbimet që ?Ridge Global LLC? i ka siguruar Kryeministrit shqiptar, kanë qenë të një natyre joligjore.
LIGJET QE SHKELI BERISHA
TIRANE- Shërbimet që kompania amerikane e lobimit ?Ridge Global LLC? i ka siguruar Kryeministrit shqiptar, Sali Berisha kanë qenë të një natyre joligjore. Është kjo arsyeja pse kontrata e nënshkruar mes tyre vijon të mbahet sekret nga qeveria shqiptare, por jo nga ish-guvernatori Tom Ridge, që pas presionit të fortë mediatik u detyrua pak muaj më parë t?ia deklaronte atë autoriteteve amerikane. Anën më të errët të kontratës e ka ndriçuar së fundmi Departamenti i Drejtësisë në Shtetet e Bashkuara, që ka publikuar në faqen zyrtare të internetit kopjen origjinale prej 13 faqesh. Në këtë kontratë sekrete, citojmë se ?shërbimet që ?Ridge Global LLC? do të sigurojë janë të një natyre joligjore dhe të ndryshme nga lloji i shërbimeve që sigurojnë avokatët. Ne do të përdorimin përpjekje të arsyeshme për të mbrojtur konfidencialitetin e informacionit lidhur me këtë angazhim, përfshi komunikimin mes nesh dhe cilitdo agjent apo avokat si dhe nuk do të publikojmë informacionet, përveçse në rastin që na duhet ta bëjmë këtë në mënyre që të zbatohet angazhimi ynë ose në rastin e autorizuar prej jush?, është angazhimi që ndërmerr kompania e Ridge karshi Kryeministrit Berisha. Në këtë kontekst, ku palët bien dakord që marrëdhënien e tyre të ndërtohen mbi bazat e fshehtësisë, sqarohen edhe mënyrat sesi avokatët e ?Ridge Global LLC? do ta ruajnë zbulimin e çfarëdolloj informacioni. ?Në një marrëdhënie të tillë, një avokati i kërkohet të ruajë konfidencialitetin e të gjithë informacionit që lidhet me përfaqësimin e klientit dhe komunikimi mes një klienti dhe avokatit mbrohet nga zbulimi sipas privilegjit të përcaktuar me këtë rast. Avokatët ndalohet të përfaqësojnë persona me konflikt interesi dhe janë të detyruar të ruajnë pavarësinë profesionale?, – citojmë nga kontrata në fjalë. Ish-guvernatori Tom Rigde e ka bërë atë publike pranë autoriteteve të Departamentit të Drejtësisë vetëm me 12 qershor të këtij viti. 480 mijë dollarë, shuma e kontratës së përfituar nga Ridge për asistencën që do t?i jepte vendit tonë për integrimin në NATO, nuk ishte deklaruar prej tij si një fitim, por pas një presioni të fortë mediatik ai ?u dorëzua?. ?Nuk e dija se duhej deklaruar?, – ishte reagimi i Ridge pas publikimit të këtij skandali.
(s.g/GazetaShqiptare/BalkanWeb)
http://www.balkanweb.com/sitev4/index.php?id=28233
Da hat jemand jetzt ein Problem mit dem US Justiz Department
Advertisements [?]
Roll Call: Former Bush DHS secretary Tom Ridge busted by the Justice Department for failing to register for two years for lobbying for Albania, at $40k a month:
"For almost two years former Homeland Security Secretary Tom Ridge failed to register a nearly half-million-dollar lobbying contract that he had with the government of Albania."
http://www.warandpiece.com/blogdirs/007602.html
Hintergrund: Wie ?Terror-Videos? der Bush-Regierung halfen die Wahl zu gewinnen
Von Daniel Neun | 25.September 2009
Pearlman Video, erschienen 28_10_2004
Der ex-US-Minister Tom Ridge schreibt in einem Buch, dass er 2004 massiv unter Druck gesetzt wurde die ?Bedrohungs-Stufe? seines Ministeriums zu erhöhen ? 4 Tage vor der Präsidentenwahl. Kurz zuvor war ein vermeintliches Video von Bin Laden aufgetaucht, sowie das Video eines angeblichen ?islamistischen Konvertiten?, dem mutmasslichen Agenten Adam Pearlman.
…..
In der Tat schreibt der ehemalige Minister der Bush-Regierung Tom Ridge nun in seinem Buch, dass namentlich Verteidigungsminister Rumsfeld und Justizminister Ashcroft von ihm eine Erhöhung der Terroralarm-Stufe verlangten um die Wahl zu beinflussen. Die ?Huffington Post? (5) zitierte die Webseite ?U.S. News and World Reports?, welche zuerst eine entsprechende Meldung von Ridges Buch gestreut hatte. Demzufolge wurde der ?Minister für Schutz des Heimatlandes? bei jenem Treffen am 30.Oktober
?gedrängt den Sicherheitsalarm kurz vor Präsident Bushs Wiederwahl zu erhöhen, was er als politisch motiviert ansah und als einen Grund deswegen zurückzutreten.?
Letzlich wurde die ?Bedrohungsstufe? des ?Ministeriums für Schutz des Heimatlandes? nicht erhöht. Am 30.November 2004 erlärte Tom Ridge dann seinen Rücktritt.
http://www.radio-utopie.de/2009/09/25/hintergrund-wie-terror-videos-der-bush-regierung-halfen-die-wahl-zu-gewinnen/#comment-8627
Islam Terrorist: Partner – CIA, Clinton, Frank Wisner, John Negroponte
http://www.youtube.com/watch?v=TPD5S9rTDyE
Video: Washington's Favorite Terrorists: Mujahedin-e Khalq (MEK, MKO, PM
BBC Newsnight: Mujahideen-e-Khalq Terrorist MeK MKO – Part 1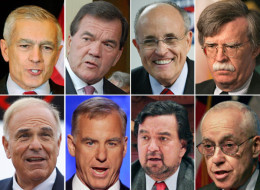 Die Lobby Gangster Truppe, inklusive Wesley Clark, der Mafia Vertreter:
Mujahideen-e Khalq: Former U.S. Officials Make Millions Advocating For Terrorist Organization
First Posted: 8/8/11 09:53 AM ET Updated: 8/8/11 12:30 PM ET
………………………
That agenda: to secure the removal of the Mujahideen-e Khalq (MEK) from the U.S. government's list of Foreign Terrorist Organizations. A Marxian Iranian exile group with cult-like qualities, Mujahideen-e Khalq was responsible for the killing of six Americans in Iran in the 1970s, along with staging a handful of bombings. But for a terrorist organization with deep pockets, it appears there's always hope.
Onstage next to former FBI director Louis Freeh sat Ed Rendell, the former Democratic governor of Pennsylvania and current MSNBC talking head; former Vermont Gov. Howard Dean; former Chairman of the Joint Chiefs of Staff Gen. Hugh Shelton; former Secretary of Veterans Affairs Togo West; former State Department Director of Policy Planning Mitchell Reiss; former Commandant of the Marine Corps Gen. James T. Conway; Anita McBride, the former chief of staff to First Lady Laura Bush; and Sarah Sewall, a Harvard professor who sits on a corporate board with Reiss.
All told, at least 33 high-ranking former U.S. officials have given speeches to MEK-friendly audiences since December of last year as part of more than 22 events in Washington, Brussels, London, Paris and Berlin. While not every speaker accepted payment, MEK-affiliated groups have spent millions of dollars on speaking fees, according to interviews with the former officials, organizers and attendees.
Rendell freely admits he knew little about the group, also known as People's Mujahedin of Iran (PMOI), before he was invited to speak just days earlier. But he told the audience that the elite status of his fellow panelists and the arguments they made for delisting the group were enough to convince him that it was a good idea.
……………
Retired military officers are popular — former NATO Supreme Allied Commander Gen. Wesley K. Clark and former Commander in Chief of United States Central Command Gen. Anthony Zinni have both addressed MEK groups. Yet more speakers appear to have been chosen for their deep political ties, such as former New York City Mayor Rudy Giuliani, former New Mexico Gov. and U.N. Ambassador Bill Richardson, former Bush White House Chief of Staff Andy Card, former Indiana Sen. Evan Bayh and former 9/11 Commission Chairman Lee Hamilton.
Hamilton acknowledged to IPS News that he was paid for his appearances, describing his fee at the time as "significant." Dean also acknowledged that he was paid for at least a portion of the speeches he gave to MEK groups in London, Paris and Washington, as did Gen. Clark. Gen. Jones told The Wall Street Journal that he received a "standard speaking fee." Gen. Zinni's speaker agent confirmed that Zinni was also paid his "standard speaking fee" for an eight-minute address at an MEK-related conference in January — between $20,000 and $30,000, according to his speaker profile. The same firm arranged for Zelikow to speak at two MEK-affiliated events this spring, and it recruited John Sano, the former deputy director of the National Clandestine Service, for his first MEK-related appearance on July 26.
http://www.huffingtonpost.com/2011/08/08/
Tom Ridge der 480.000 $ teure Lobby Berater von Salih Berisha
Korrupt und kriminell bis zum geht nicht mehr!
My letter to Tom Ridge


H.E. Lulzim Basha
Minister of Foreign Affairs
Republic of Albania
Tirana, Albania
Lulzim Basha
Zoti Basha:
Below is my May 30 letter to Tom Ridge. As of this date, I have not received a response from Mr. Ridge. Perhaps you can shed some light on these questions? It would be greatly appreciated if you could be so kind as to provide your input.
With respect to another issue, as you know, Greek soldiers were caught on video chanting, "we will use the intestines of Albanians to make our shoelaces." Just in case you haven't seen it, here's the video . As Minister of Foreign Affairs, why haven't you demanded that the Greek government discipline the soldiers who made those racist, anti-Albanian statements? For some advice, I suggest you ask President Bush what he thinks about this outrage.
Sincerely,
Gary Q. Kokalari
May 30, 2007
The Hon. Thomas Ridge
Thomas Ridge LLC
Washington, DC
Dear Governor Ridge:
In light of Lulzim Basha's recent visit to Washington and President Bush's impending historic visit to Albania, I have a number of questions about your relationship with Albania and I am requesting that you respond to the following:
1. In the interest of transparency, as I have previously requested, what is the nature of the services you are providing to Albania, how much are you being paid and who is paying this fee to you?
2. What was the purpose of accompanying Lulzim Basha on his visit to Capital Hill?
3. Bechtel was recently granted a contract for a major road construction project in Albania. This appears to be another Albanian tender process where there were was a minimal attempt at transparency. Did you in any way function as an intermediary in this deal? Have you acted as an intermediary with regard to any other company's efforts to secure business in Albania? If so, did you receive any form of remuneration for your efforts? Does this present a conflict of interest?
4. Below is my May 6, 2007 letter to Congressman Engel regarding Foreign Minister Lulzim Basha's recent visit to Washington, and you were copied on the letter. Many of these subjects have been brought to your attention before including questions about the source of Basha's wealth. Have you asked Basha about the source of his wealth? Have you inquired about his family's ties to the Vefa pyramid scheme? How is it possible for Basha, a young man with little professional experience, to have accumulated $1 million in assets (that?s just what he?s declared, there may be more)? Can he provide pay stubs, tax returns and records of stock transactions to support his claims? I know this would not seem an unreasonable accomplishment in the U.S., but this is Albania and knowing the situation there quite well, I can tell you that in the best case it's highly suspicious. In a related matter, as I previously informed you, Basha?s father-in-law was a key figure at Vefa, one of the largest of Albania ?s notorious pyramid schemes that were responsible for fleecing the large majority of Albanians and subsequently plunged the country into chaos in 1997. Despite the fact that Berisha was repeatedly warned about the danger associated with these schemes, he maintained a close relationship with Vefa and ignored all warnings. Did you ask Basha if he is aware if his father-in-law was able to abscond with illegal gains from Vefa and did Basha in any way profit from these assets?
5. In light of the recent events related to Fort Dix and the fact that three of the alleged "terrorists," the Dukas, were Albanian illegal immigrants, and given your former position as Director of Homeland Security, did you do anything about the information I provided to you about illegal trafficking in Albania?
6. I have made a number of concrete suggestions to Sali Berisha about attacking crime and corruption in Albania and you have been made aware of this information. Supposedly, you have been retained to provide counsel on these issues. Other than suggesting a national identity card plan, what have you done in this regard?
7. I forwarded a report to you that was provided to me via email by one of Sali Berisha's closest advisors that alleges various acts of corruption and criminal enterprise against Former Prime Minister Fatos Nano and members of his government. This report contains very specific charges and was given to me with Berisha's full knowledge and approval. It was also made a key election issue when I made this information a matter of public record in Albania 2005. What have you done about this?
8. Regarding Telecom & Transport Minister Sokol Olldashi (former Interior Minister), you were also provided with a similar report that discusses various allegations about Olldsashi's relationships with Albanian criminals. Have you discussed this matter with Berisha?
9. You were provided information about Defense Minister Fatmir Mediu's unexplained wealth and allegations that he was arrested in Italy with a reputed Albanian gangster alleged to be engaged in human and drug trafficking. Have you inquired about the source of Mediu's wealth or the allegations that he maintained a relationship with a reputed Albanian gangster?
10. I have informed you about possible security breaches at the U.S. Embassy in Tirana? What have you done about this matter?
11. Based on his actions, it is now clear Sali Berisha blatantly lied to the people of Albania about his intentions related to fighting crime and corruption and governing with transparency. Have you discussed this matter with him? If so, does he intend to do anything to rectify this matter?
12. Despite various DP campaign promises to rectify various problems in the telecom sector (your office has been kept fully abreast of these issues), Berisha and Basha have made a complete about face on their promises. It is known that Basha has forged a close relationship with executives of Greek owned AMC. Are you aware if Basha has received any form of remuneration from AMC in exchange for his cooperation on matters that are beneficial to the economic interests of AMC but detrimental to the people of Albania?
13. Recently, there was a large demonstration in Tirana to protest Sali Berisha?s heavy handed attempts to censor media. Did you advise Berisha that such attempts to stifle free speech are direct affronts to democracy?
Your input on these matters would be greatly appreciated.
Thank you.
Sincerely,
Gary Q. Kokalari
Tags: Damir Fazlic, Lulzim Basha, Tom Ridge