Schon wieder gibt es was Neues, eine Touristik Task Force, genauso lächerlich wie Alles seit 15 Jahren, wo nur jedes Jahr dummes Geschwätz kommt, einfachste Dinge wie Bau Gesetze, nie umgesetzt wurden.
Vor wenigen Jahren, als man begann im Taliban Stile: Antike Stätten zubetonieren: unter Leitung von Arber Kadiu, Neritan Ceka und den jeweiligen Kultur und Tourismus Ministern.
kryeministri Berisha po lobon per turizmin:
"Welcom turist, we spik beris
97 % aller Bauten an den National Strassen, sind illegal, von kriminellen Clans bebaut, sagt sogar das Transport Ministerium, mit entsprechenden Unfällen und Toden. Man will nun verstärkt Reise Veranstalter suchen, was Alles uralte Schwerpunkte waren vor 15 und mehr Jahren und von Kriminellen Regierungen sabotiert wurde, durch Erpressung und illegale Küsten Grundstücks Bauten, fast immer mit gefälschten Dokumenten.
EU-Umwelt Behörde: 39,7 % der Albanischen Strände sind durch Abwässer illegaler Bauten verseucht: Sarande unter aktiver Beteiligung der jetzigen Bürgermeisterin, einer Puppe der Gross Mafia.
Alte Wirtschafts Erfolge im Verbrechen:
300 % Drogen Export Steigerung unter der Ilir Meta Regierung Ende 1999 bis Anfang 2002, nach Italien. Vor allem durch das Braho – Artur Kuko (NATO Botschafter) Lefter Koka und Lulzim Berisha Mord und Verbrecher Kartell mit Partnerschaft mit der Deutschen Botschaft in Tirana.
erneut 400 % Steigerung im Drogen Export nach Italien, wo man heute feststellt, das bereits 15,7 % der Albaner nur noch im Drogen Geschäft tätig sind, was eine Steigerung von 30 % im Ilir Meta Stile erneut ist.
foreign policy: "have transformed Albania into a Banana Republic" : Samir Tahiri, Arben Ahmeti, Ilir Meta, PM: Edi Rama
Und immer Politik Verbrecher Banden, wo bei dem illegalen Bauen, der Küsten Vernichtung die korrupten Premier Minister, Ilir Meta, und Kollegen ganz vorne aktiv dabei sind wie der FAll von Ilir Meta Partei ist eine Langzeit Garantie für Idiotie und Inkompetenz in der Adminstration und Arben Ahmeti ist wie Ilir Meta, in der Albaner Mafia versackt, wie man mit Klement Balili und der Einweihung des Hotels "Santa Quaranta" dem Pablo Escobar. Alles illegal gebaut

Jetzt will Ilir Meta, Haupt Verantwortlicher für die Negativ Entwicklungs des Tourismus, Umwandlung in ein kriminelles Enterprise, das die Medien nicht mehr negative Dinge berichten, womit Ilir Meta und Lefter Koka vor allem gemeint ist.
Die aktuelle Mafia Braut inzwischen Bürgermeisterin, der LSI in Sarande: Florjana Koka, wurde direkt von Ilir Meta eingesetzt, betreut direkt die übelsten Verbrecher in Sarande und ihre illegalen Bauten: Qualifiaktion Null, nur Mitgied in einer der übelsten Verbrecher Clans Familien Albaniens und betreut man die bezahlten US Lobbyisten des Ilir Meta.
Ilir Meta, der "Frankenstein" der Albanischen Politik
Über 300 % Export Drogen Steigerung unter der Ilir Meta Regierung und als Edi Rama Bürgermeister von Tirana wurde, denn Geldwäsche, wurde Programm.
die Staatsanwaltschaft von Manhattan, Peter Bharara erklärte, dass "Ilir Meta wissentlich als Sekretär Almir Rrapo gemietet, für den Drogenhandel, Mord, Erpressung und Entführungen wollte."...
Geistig behinderte Lobbyisten brauchen auch bei den Deutschen immer ein Foto: Ilir Meta bezahlt dafür 30.000 $ pro Monat.
Warum braucht eine Bürgermeisterin in Albanien einen US Lobbyisten?
Mrs. Florjana Koka welcomed in her office Dr. Cary Lee Peterson, US Senate Lobbyist, Director of Congressional Committee of Eurasian Affairs.
Der "Frankenstein" der Albanischen Politik: Chef der Skrapari Bande, kauft US Politiker, über deren Lobbyisten Consults
Present at the 25th Assembly of the Alliance of the Mediterranean News Agencies, the Assembly Speaker, Ilir Meta, praised the media's role in promoting the country and in establishing communication between countries, especially between the countries that have had problems …
Original GIZ Geplapper des Nichts, inklusive teurer Konferenz
In the last 10 years, Albania has lost 15% of the green areas and many rare species are not coming back to our country. Official statistics were made public by the Minister of Environment, on May 22, the International Day …
Auron Tare ist wohl in der Versenkung verschwunden, nun durch seinen Direktor Ardit Çollaku vertreten, eine alte Berisha Familie in alle Richtungen inklusive illegalem Bauen mit gefälschten Dokumenten.
Aktiv stehlen diese Leute grosse Grundstücke, bauen illegal überall und dann kommt diese Show mit Null Aktion in Folge.
Justiz Minister Ylli Manjani zur Durres Justiz Mafia: "Ihr stehlt Tausende von Hektar mit gefälschten, falschen Dokumenten als Partner der Mafia"
Sezoni veror, ulet sipërfaqja e stacioneve turistike në 200 m katrorë
15 Maj 2016, 21:18
Përditësuar 21:18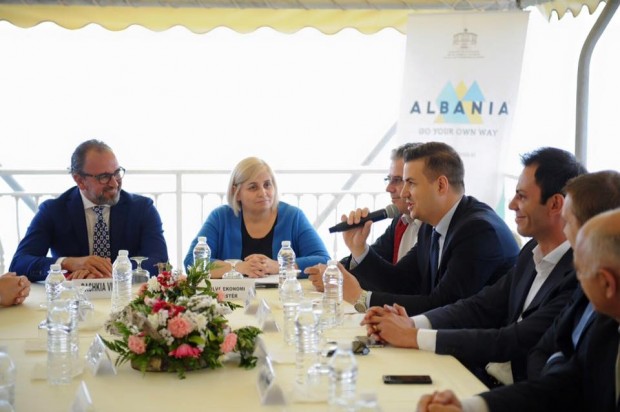 Sesoni turistik veror, që, tashmë ka çelur siparin në një pjesë të madhe të territorit në Shqipëri, ishte edhe qëllimi i takimit të zhvilluar dje, në qytetin e Vlorës, me praninë e drejtuesve dhe përfaqësuesve të bashkive bregdetare e bregliqenore të vendit.
Në këtë takim, të organizuar nga Ministria e Zhvillimit Ekonomik, Turizmit, Sipërmarrjes e Tregtisë, u diskutua për shqetësimet me të cilat po përballen njësitë vendore që administrojnë këtë pjesë të territorit, si dhe masat e pritshme.
Ligji i ri "Për Turizmin", u vlerësua nga drejtuesit vendorë, si një mundësi mjaft efektive, por që ka nevojë për mbështetje me aktet nënligjore përkatëse. Pjesë e tij është edhe projektvendimi që përcakton kriteret e stacioneve të plazhit, që tashmë do të reduktohen në një sipërfaqe respektive prej 200 metra katrorë, 10 herë më pak, krahasuar me çka parashikohej më parë,.si edhe një sërë klauzola të tjera ligjore që mbështesin bizneset e vogla rajonale