Das ganze kriminelle Substrakt: Nennt sich bekanntlich NATO Land, wo Kriminelle und die absolute Inkompetenz sich Posten in der Regierung und Adminstration kaufen, identisch in der Justiz, wo man Urteile und Grundstücke bei korrupten Mafia Richtern kauft. Vereint die Gangster Edi Rama, Salih Berisha, Ilir Meta
Albanien: Nr. 37 der gefährlichsten Staaten der Welt
Die Syrischen Migranten und Kriegs Opfer verweigerten das man in Albanien Asyl erhält, denn in Albanien kann es durchaus vorkommen, das 2 betrunkene vor den Augen eine Schiesserei anfangen, oder ein Sprengstoff Anschlag geschieht. Ein Ort ohne Gesetze und Justiz, ohne Kultur, wo Kriminelle sich Politiker nennen: Mekka der Cannabis Anbeter ins Thehti Tal, wo es ebenso immer wieder Morde gibt.
Friday, May 6, 2016
MAY 5, 2016
About 16 Syrian refugees caught by Albania police on Wednesday near the border with Greece, had refused the offer to apply for political asylum in Albania, local media announced.
The refugees, part of the group that was blocked in the border between Greece and Macedonia near the village of Idomeni, apparently aimed to use Albania as a transit point, hopping to bypass Macedonia and to reach Serbia through Kosovo.
Albania formally offers asylum for refugees caught in its territory, but very few are those who accept the offer.
Usually in the past, Albania police issued "voluntarily repatriation orders" for migrants and refugees caught in its territory but this time, it announced that the refugees had to return to Greece, apparently in order to discourage others.
Although it borders Greece, Albania has not been affected by the refugee crisis.to-their-native-countries-from-greece-in-april.
Britain's Justice Secretary of State, Michael Gove, has once again used our country as an example in a comment on the issue of 'Brexit', Britain's exit from the European Union, for which he is in favor. Gove says, "You think …
British Minister attacks Albania once again
30/04/2016 15:00
Albania became once again part of the Brexit debate. The British Minister of Defense used once again the "dangerous Albania" card.
The British minister of Justice, Michael Gove, warns British people of the threats coming from Albania and other Balkan countries if they join the EU.
"Think the EU's bad now? Wait until Albania joins the EU", Gove says.
"The Albanian option is not an imagination. It is a diplomatic fact", the Minister of Justice said.
The Minister insists that until 2020, Britain will spend 20 billion pounds to prepare the Balkan countries for their membership. He underlines that this figure is more than the war against cancer in the NHS, the British National Health Service.
"Indeed, I wonder if the Albanian people are now convinced that Britain's Foreign Office is full of Norman Wisdom characters, lovable chumps whose generosity and good-heartedness make them easily gulled into accepting all sorts of bad advice", the British Minister says. He adds that 1 in 20 criminals in Britain are of Albanian origin.
"10% of our prisoners come from Albania", Michael gove underlines. In this campaign, the British Minister mentions the negative aspects of the accession of other countries, but he mainly focuses on Albania.
The representatives who favor Britain leaving the EU, use more or less the same scare mongering arguments that have been used in the past for Poland, Romania and Bulgaria. They used to say that Britain would go bankrupt due to the immigrants coming from these places. http://top-channel.tv/lajme/english/artikull.php?id=16960#.VyXmc571GlM
Der Britische Justiz Minister ist auch so ein Spinner, wie Daily Mail berichtet: Anscheinend überall die selbe Inkompetenz Schule, nur schwätzen können die Leute.

Redet dieser korrupte Idiot einen Unfug. Er soll ganz einfach die komplette Durres Staatsanwaltschaft entlassen, weil das Problem ewig bekannt ist.
Prosecutor General: "Durres organized crime challenged the state"
03/02/2016
The Prosecutor General, Adriatik Llalla, said that the murders that took place in Durres are based on drug traffic and illegal property possession. The Prosecutor said there are several criminal groups operating in Durres, now trying to challenge the authority of the state.
Prosecutor Llalla said that they need to reveal the motives of other conflicts with severe consequences.
The Prosecutor General criticized the Prosecutions of Durres, Elbasan and Kavaja, based on the low figures of the financial crime. Llalla said that a good work is being done with the money cleaning procedure, but he said that the Kavaja Prosecution should be more careful with the seaside properties.
http://top-channel.tv/lajme/english/artikull.php?id=16203&ref=fp#.VrN7ykKLelM
http://www.weltrisikobericht.de/
Der EU finanzierte Bauschrott in Albanien
Albanien normal, bei Regen, als Folge wenn Dumm Kriminelle herumbauen, was es vor 2000 nicht gab. Erst als die Dümmsten und Kriminellsten Premier Minister wurden, dank dem Taxischein Besitzer Joschka Fischer (verkaufte jeden Kriminellen als Reformer, System Lügen Verbreiter bis zum Libyen uns Syrien Kriegs Verbrecher Lügen System), ging es bergab: Ilir Meta Regierungen und Folgen.
Posted on 26 Apr 2016
After ranking as the country with the highest level racist for 2013 in Europe (according to the Washington Post) Albania is ranked the first country in Europe for the vulnerability

humane
Albania turns out to be one of the countries most exposed to natural disasters. According to the study World Risk Report, our country has the lowest security not only in the Balkans, but in all of Europe.Organizations that cooperation with the United Nations University and the Institute for Environment and Security, in its latest report on security in the world, providing for lapsi.al by journalist Vincent Triest, ranked Albania 37th place.In this way, Albania lost two places of safety index, 2011.
Bllokohen me makinë nga uji, ja si shpëtohen dy persona (VIDEO)
26 Prill 2016, 00:38
Përditësuar 00:38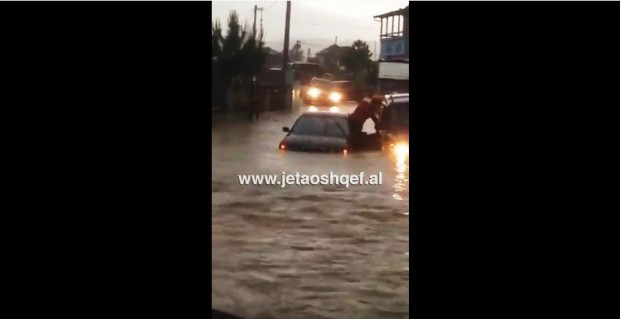 Si përherë, mjaftoi vetëm gjysmë ore shi i rrëmbyer që Tirana të pushtohej nga uji.
Në pak minuta rrugët e kryeqytetit u përmbytën, duke shkaktuar probleme në qarkullim.
Por këto minuta me shi gati sa nuk përfunduan në tragjedi në një nga rrugët e Paskuqanit. Dy persona, një djalë dhe një vajzë, mbetën të bllokuar pasi makina e tyre ngeci në mes të rrugës për shkak të ujit.
Fatmirësisht, aty rastisi nja makinë tip fuoristradë e cila u ndal paralelisht me ta. Kjo video e publikuar nga "Jeta osh qef" shfaq momentin ku djali dhe vajza dalin nga xhami i makinës së tyre dhe hipin në automjetin tjetër. http://www.shekulli.com.al/p.php?id=420936
Tags: Albanien, Edi Rama, Ilir Meta, Salih Berisha